Accommodation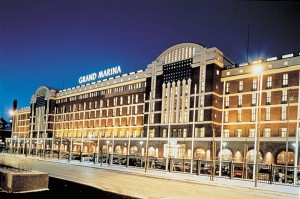 Conference hotel
Hotel Grand Marina is situated right across the street from the conference venue. Grand Marina offers a special rate for the conference guests:
139 EUR single room / night
159 EUR double or twin room / night
Room type: Standard
Buffet breakfast, free use of sauna and gym, all local taxes are included in the rate
Period of special rate: Aug 19 – Aug 25, 2012
Reservations must be made by August 10, 2012.
The rooms are booked on the internet or directly at the hotel:
On Scandic Hotel website, you can start the booking from front page by using booking code BWIC200812: www.scandichotels.com.
If you wish to make a booking directly to the hotel, please contact Scandic Grand Marina, Katajanokanlaituri 7, FIN-00160 Helsinki, Finland, Tel: +358 9 1666 1, or via email: grandmarina@scandichotels.com. Reservation code BWIC200812 must be mentioned.
Reservations must be made by August 10th 2012. Code BWIC200812 will expire after that.
Other accommodation options
Eurohostel offers low-budget accommodation. It is located 400m from the conference venue.